Camberwell Old Cemetery: Grave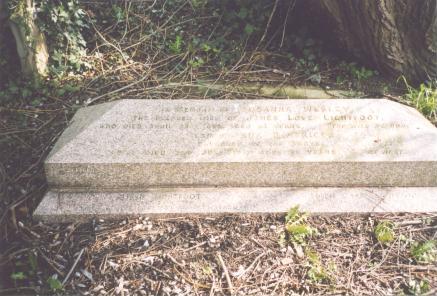 Clearer version of picture (299Kb)
Grave number 16402, Square 59
The inscription on the top of the stone as seen from the side shown above reads:
IN MEMORY OF SUSANNAH WESLEY,
THE BELOVED WIFE OF JAMES LOVE LIGHTFOOT,
WHO DIED APRIL 22ND 1899 AGED 54 YEARS. "THY WILL BE DONE".
ALSO OF ADA BEATRICE,
DAUGHTER OF THE ABOVE.
WHO DIED 23RD JUNE 1913 AGED 39 YEARS. "AT REST".
On the vertical face of the stone just below this, a few letters of an inscription can be seen, probably not relating to a particular burial.
On the lower part of the stone, left hand side:
BESSIE LIGHTFOOT
ELDEST DAUGHTER
DIED 19TH OCTOBER 1954 AGED 82 YEARS
On the right hand side:
EDITH MABEL LIGHTFOOT
YOUNGEST DAUGHTER
DIED 31ST OCTOBER 1962 AGED 73 YEARS
On the left hand end
ALSO
NELLIE
FOURTH DAUGHTER
DIED JULY 31ST 1930
AGED 50 YEARS
[illegible line]
On the right hand end
ALSO
HELENE LOUISE
THIRD DAUGHTER
WHO DIED 19TH JANUARY 1941
AGED 64 YEARS
"EVER LOYAL"
Other side of the stone, shown below:
IN LOVING MEMORY OF
JAMES LOVE LIGHTFOOT
WHO DIED JAN 28TH 1922 AGED 86 YEARS
ALSO OF JAMES LOVE LIGHTFOOT
SON OF THE ABOVE
WHO DIED NOV 27TH 1919 AGED 41 YEARS
INTERRED IN EALING CEMETERY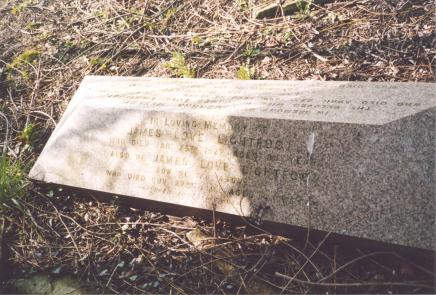 Clearer version of picture (310Kb)

| | | |
| --- | --- | --- |
| | Photographs taken April 2002 | |